Description
These Personalized Mini Bowling Pin Candy Containers are perfect for bowling party favors. They come empty so you can fill them with your child's favorite candy! They are 6.25″ tall and are made of clear food grade plastic. Each container can fit approximately 1/2 lb (or 8 ounces) of small candy (example: jelly beans, runts, M&M's, etc) Two piece design screws together for a secure fit. This product comes EMPTY! Made in the USA!
Our Personalized Mini Bowling Pin Candy Containers can be customized for both businesses and individuals.  We can imprint with a Bowling Center name, address, website, phone number, etc.  OR If you are buying these for your child's birthday party we can put for example: "Happy 7th Birthday Ricky!" The possibilities are endless.  Please email or call us with any questions you might have. Art department email: artwork@noveltybowlingstuff.com
TERMS:
Set-up and artwork charge of $50 will be applied at check-out
If sending us your own artwork it must be print ready. Black and white images only. Color images may require an extra fee to change. File type: jpg, bmp or pdf
6 "Easy Art" selections available (we can put any wording with our artwork selections)
Standard lead time is 10 working days, plus shipping
Personalized orders cannot be returned.
Please note: We CANNOT print individual names on each item (meaning the name of each child attending a birthday party or event, etc). We CAN print the same logo, artwork, text, etc on each item (see below).
ART SELECTIONS:
Our "Easy Art" logos are shown below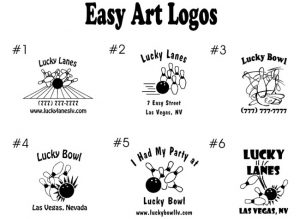 (click to see a larger view)
Just tell us what you want the artwork to say!
Email artwork questions to artwork@noveltybowlingstuff.com. You can also choose "Your Custom Logo" if you already have a logo you would like to use (you must email your logo if you choose this option; art must be black and white and in jpeg, pdf or bmp format).  A proof will be emailed before your order is processed.
Please email sales@noveltybowlingstuff.com with any questions.
FREE Economy Shipping is ONLY for US customers in the lower 48 States and does not include Alaska, Hawaii or US Territories. Free shipping also does not include international customers.  Shipping time can take from 5-10 days depending on location. We cannot "guarantee" delivery day or time when choosing the FREE SHIPPING option. Carrier will be one of the following: USPS Parcel Select, UPS Ground, USPS Priority Mail or Daylight Transportation (selection of carrier is at the sole discretion of Sierra Products). ALSO NOTE: Currently only certain items on our site include free shipping. If you combine items that do not include free shipping the option will disappear. Please call or email us with any questions. sales@noveltybowlingstuff.com