It seems as though everywhere you look these days, there's a new children's toy coming out that requires batteries or a plug. As technology continues to evolve, there is less of an emphasis on creating games that stimulate the brain and keep children active, and more interest in creating games that are loud and flashy and can double as a babysitter when mom and dad are a bit busy.  That being said, children of this generation are becoming lazier by the day and uninterested in anything that doesn't involve a built-in screen.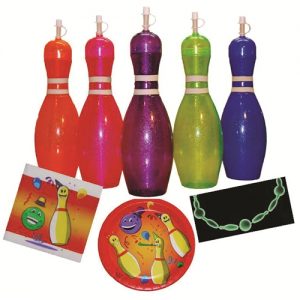 At a time when adolescent obesity is at an all-time high, parents need to be more selective of the types of toys and activities that they introduce to their children very early on. What happened to the good old days where a child's imagination and active movement were encouraged? If you ask us, days like that need to make a serious comeback!
So the next time you're trying to come up with ideas for your child's next birthday party, skip the arcades, videogame marathon parties or anything else that you may have had in mind and consider a bowling party. Not only does bowling encourage a bit of healthy competition, but it doesn't involve batteries and gets your child and his friends moving.
You may not think about bowling as a truly physical sport, but you'd be surprised to learn otherwise. In fact, according to Sweat Fitness and Frames, bowling not only promotes muscle growth through anaerobic exercises that target the legs and arms, but it helps to improve balance as well. Additionally, the sport has been proven to help stretch muscles and promote flexibility as the swinging motion engages the player's joints, tendons and ligaments. Beyond the physical benefits, you may be interested to know that bowling can also reduce symptoms of depression and act as an incredibly fun stress reliever.
Best part? You're kids probably won't even realize how many benefits they're really getting from the game – they'll be too busy just having fun with their friends! So what are you waiting for? Call your local bowling alley for your child's next birthday party and then be sure to head over to the Sierra Products Inc. website for all of the greatest novelty bowling supplies you need to take the party to the next level. We've got everything you need to maintain the bowling theme at the alley, and even a few great bowling-inspired treats to fill goody bags with! Check us out today!
(Posted by: Shelly Berry of Sierra Products Inc.)
Subscribe to Sierra Products Inc by Email